Alan Stone tackles the Cape Wrath Expedition Race 2016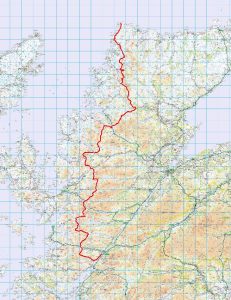 On a wet and dank morning in Fort William 98 prospective runners gathered for the inaugural running of the Fort William to Cape Wrath Expedition Race. This was to be 400kilometres of multi-terrain running with 11,500 metres of ascent spread as a stage race over 8 days. It would follow one of the variations of the Cape Wrath trail. This is a loose network of trails that can be walked in 2 to 3 weeks depending on route options. It was organised by OUREA events, the same team that brought you the revival of the Dragon's Back.
It appealed to me because I knew this to be a particularly beautiful and remote part of the British Isles that would be quite difficult to reach other than as part of an organised event. People attempting to walk it usually have to carry massive packs as places to stay are few and far between. There are bothies and B&Bs along the way but you have to be prepared to camp out some nights as the distances between some of the road heads are too far to walk in a day. I had entered a year previously and spent the best part of a year preparing myself physically, psychologically and buying the right kit to maximise the chances of success.
We were going to be self-sufficient in the daytime carrying enough food for the whole day and drinking from streams. There was a minimum kit list of total body cover, hat, gloves, a bivvy bag and the usual compass, whistle and map. We were also required to carry a mobile phone – the usefulness of which was unclear as there is little phone signal in these remote parts. An innovation for this race was the requirement to carry a sophisticate yellow brick satellite tracking device. Rather than being a passive receiver this was able to transmit a signal directly to an overhead satellite. This not only gave locational updates but also could, in an emergency be used for direct 2-way communication. A red emergency help button could also be depressed in case of immediate threat to life. Friends and family could also track us live online. At the overnight camps we were provided with 8 person tents and a vegetarian evening meal and breakfast. There was nothing to stop the carnivores bringing their own supplies of meat. While I was fairly confident that I was physically fit enough and had enough mountain experience to find my way and navigate the course there are always uncertainties over running an event like this. Putting your foot down a rabbit hole a couple of miles into the first day could never be ruled out. There is always the risk of injury and always the risk of making an error of judgement in navigation or kit choice or diet that could put a premature end to the journey. In my head prior to the event I had come up with the 8 "F"s that I thought could stop successful completion. These were;
Fitness – had I done enough training?
Fluids – keeping ahead of the insensible fluid losses from sweat and water vapour in breath
Freezing – hypothermia
Food – adequate calorie intake during the day
Feet – looking after your feet to prevent blistering or trench foot from prolonged immersion
Falling – causing physical injury
Finding your way – navigation
What the Flipping heck am I doing here – the psychological battle – this is not to be underestimated and in my view was the most important part. The will to keep going when everything was hurting and morale was low or self-doubt was starting to creep in.
Day 1 was to be one of the shorter at 37km with 500m of climb. We were ferried across Loch Linnhe to the other side and were piped ashore by a lone piper. Anticipation grew and with little ceremony we were off. The initial run was south away from our destination along the road. We knew time cut-offs were to be strictly enforced and most were keen to avoid these at all costs. Failure to make a check point by a specified time would result in being pulled from that day's race and at least part, if not all, of the following day and finishing the event as a non-competitor. Day 1 saw the wettest weather of the week with a brief shower. The paths across the pass by Sgor Craobb a Chaoruinn were boggy after the previous week of heavy rain. We descended down into Glen Finnan to camp under the viaduct of Harry Potter fame. I think most people arrived earlier than they had anticipated, partly due to the easy terrain and partly because most of us had wound down prior to the event and we were like coiled springs waiting to get going. A pleasant evening was spent reflecting on the relative ease of the day and the fine weather and that there was good 3G coverage – the last for a while.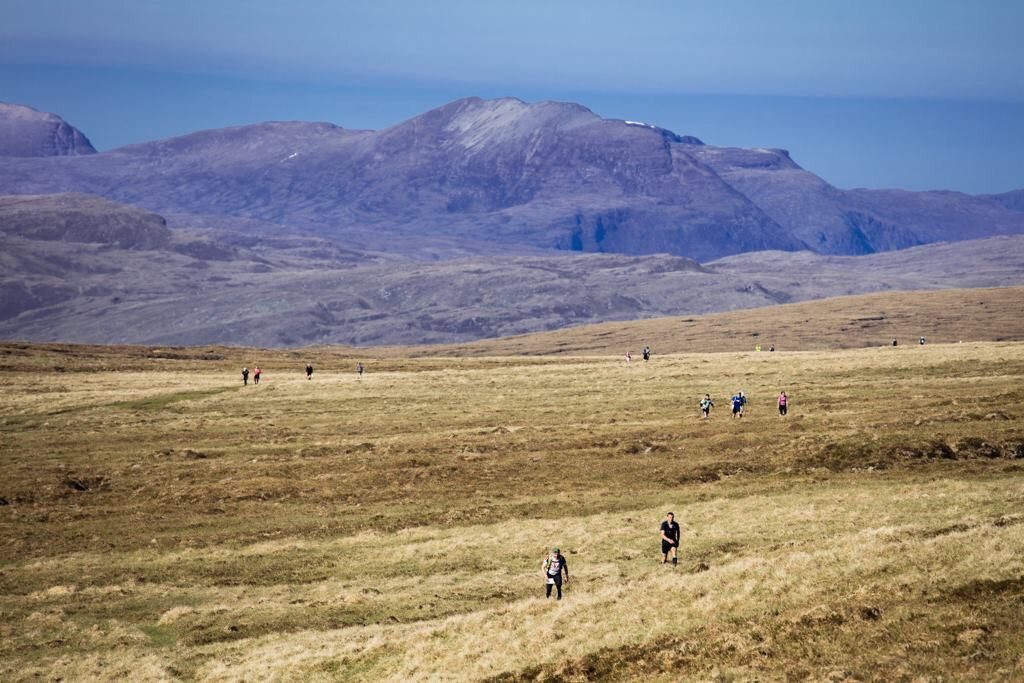 Day 2 was to be a much different affair. At 57 km and with 1800m of climb, some of which would be off-path this would be much more testing. People could choose what time to set off in the morning. As an early riser I wanted to be away early and be in early to try to give as much recovery time in the evening as possible. Today would also see the first of over 100 river crossings. If the weather was going to be wet, then we knew these had real potential to slow our progress and make the journey more hazardous. This was also our first taste of more remote countryside. During the week we were rarely to see other people other than those on the event or connected with it. It appears these trails are little trod. Harvey's had produced a map especially for this event and we were to keep within a 400m wide corridor dictated by the yellow line on the map. Unfortunately, the yellow line didn't appear on the ground in front of us. Some people chose to use GPS devices, others map and compass or a combination of the 2. I have been led astray by GPS before and opted to use the map with an emergency GPS backup on my phone. I think this was a good choice. It meant I would always know where I was and pick the easiest line rather than following a blind arrow. The end of Day 2 brought us to Kinloch Hourn and we camped in a field next to a small stream. Washing facilities were primitive. I used a combination of streams and wet wipes for the week. Portaloos were provided. Kinloch Hourn sits at the end of Britain's longest no through road in the Knoydart peninsular. The scenery of this 2nd day was superb and lived up to expectations.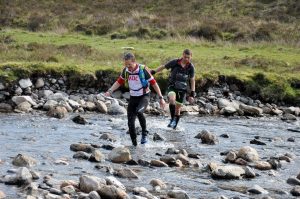 Day 3, we thought would be the hardest day. We were later proved wrong on this but weren't to know it at this stage. It never failed to disappoint and this day saw the highest dropout rate for the whole week. At 68km and with 2400 metres of climb over rough terrain this day was not a day to be underestimated. We headed over Bealach Coire Malaghain by The Saddle which was remote and beautiful and then descended to Kintail and Morvich before striking inland to pass the Falls of Glomach. Several of us tried to follow the path down into the gorge before realising that was a dead end and the through path lay much higher. The skill to read terrain and topography was useful here and a confidence to move quickly over wet rock next to precipitous drops was useful for quick progress to be made. The day was a nice mixture of 4×4 tracks, hill walker paths and trackless cross country running across bog and moor and tussocks and heather. The final descent down into Achnashellach was a welcome sight and required skilful navigation to avoid precipitous cliffs. A last river crossing made for a tricky final few hundred metres. We were glad the weather had been dry because this would have meant a long detour if the river had been in spate. 12 hours on the hill moving at speed had taken a lot out of me but I was pleased to have finished this day. I thought it was going to be the hardest, but that was yet to come
Day 4 was to be an easier day at 35km and 1400m of ascent. It was to take us into the beautiful moonscapes of Torridon. We had been warned the navigation was tricky and I was being especially careful. Others were less so and the day was to see some spectacular errors of navigation by some competitors. Fortunately, the satellite trackers were observing our every move and the course organisers were able to dispatch intercept teams to pick up those runners who ended up running down the wrong valley. I inadvertently cut a corner during the day, while still staying within the 400 wide corridor, it was duly noted on the trackers and I got a telling off on returning to camp at the end of the day. A mistake I was determined not to repeat. Of the people who went wrong, one decided a long trek back along the road and the acceptance of a hefty time penalty was worth it, the other climbed into the intercept car and accepted his race was over. The route to the north of Beinn Eighe was not on path and didn't exist at all. Slow progress was made over heather and rock with heavily gullied terrain sapping energy from the legs. The rewards were some of the best scenery of the whole week. We arrived in Kinlochewe early enough to visit the local shop and buy ice creams before settling to camp routine. During these days you often found yourself running with people of similar ability to yourself and so could be quite sociable. Sooner or later, you or they would have a good spell and then you would find yourself running alone. It was quite an intense experience being completely alone in such rugged terrain with only your own skills to keep you from wandering off track. It was often not unusual to see no other human being or man-made object in any direction.
Day 5 was another shorter day at 44km and 1400m of climb to Inverlael through Fisherfield. We initially headed up to Lochan Fada before striking inland through Bealach nan Croisse past Anteallach and down into Inverlael. It was at this point that I started to develop tenosynovitis in my ankles. The repeated ankle twisting over the rough terrain had taken its toll and my ankles were starting to object to the repeated pounding. I was not the only one, it seemed to me that over half the field was to go down with this and many withdrew themselves as a consequence. I was beginning to find going uphill easier than descending as it meant less impact. The weather had been unusually kind and the conditions underfoot had been very dry. This probably decreased the incidence of trench foot seen in the medical tent but the penalty was some very sore feet and ankles. Today also saw me using my Buff as a wet headdress to keep me cool and prevent overheating and sunstroke. Choc ices awaited finishers on crossing the finishing line. Each day the trackers were taken off us so the organisers knew exactly who was on the hill and who was safely in.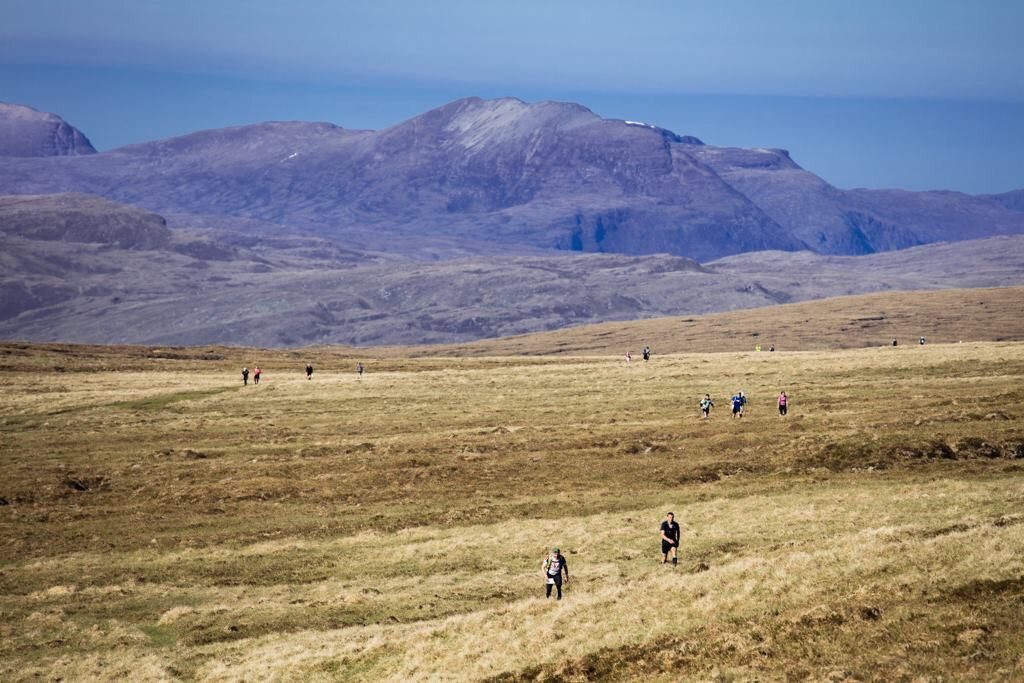 Day 6 was to be one of the toughest days of my life. My ankles were hurting from the start and this was just to get worse as the day progressed. We were heading from Inverlael to Inchnadamph. The first mountain section was easy and was soft under foot and made for pleasant running. At 72km It was always going to be the longest day but with only 1400m climb and the majority on track it looked straight forward. However, the forest track we were running on made the going hard under foot and exacerbated the tendon injuries around my ankles. The hot weather and clear visibility ensured that time passed slowly even though good progress was being made. This was my least likeable day of the whole experience due to this. We passed though Oykel Bridge and a few stopped for a drink in the bar. I just wanted to keep moving and get the day over as quickly as possible. I thought that if I stopped I wouldn't get going again. This day also saw a detour along a small rarely used track and many missed the turning. This was one of two times I used my GPS as I was crossing terrain that looked pathless and had no foot prints visible. I had begun to doubt myself but my navigation was spot on and it was others who were off course. A final interesting section over Ben More Assynt saw my ankles hurting more than ever and the descent down on a stony track was painful and slow. I was beginning to fear that I may not be able to finish if my ankles got any worse. We arrived in Inchnadamph to the welcome of a cold Coca Cola and a beautiful sunset over the loch. Ankles were iced and watered and after a restful night I felt a lot better and ready to continue. I knew I was slowing and was keen to get going as early as I could the next morning to minimise the chance of my timing out and failing to make cut offs.
I had noticed that quite a few of the competitor's ankles were swollen in the evening with fluid retention and by the morning, although their ankles had gone down after a night lying flat it had redistributed to their faces. Some people's eyes were so puffy they had difficulty opening them in the mornings. This is not well described in the sporting or medical literature and appears to be peculiar to the multi-day ultras. I can only assume it is secondary to fluid overload and fluid being outside of the blood compartment in the spaces between cells. I certainly noticed for a few days after the event I seemed to be peeing more than I was drinking which would fit with getting rid of this excess fluid.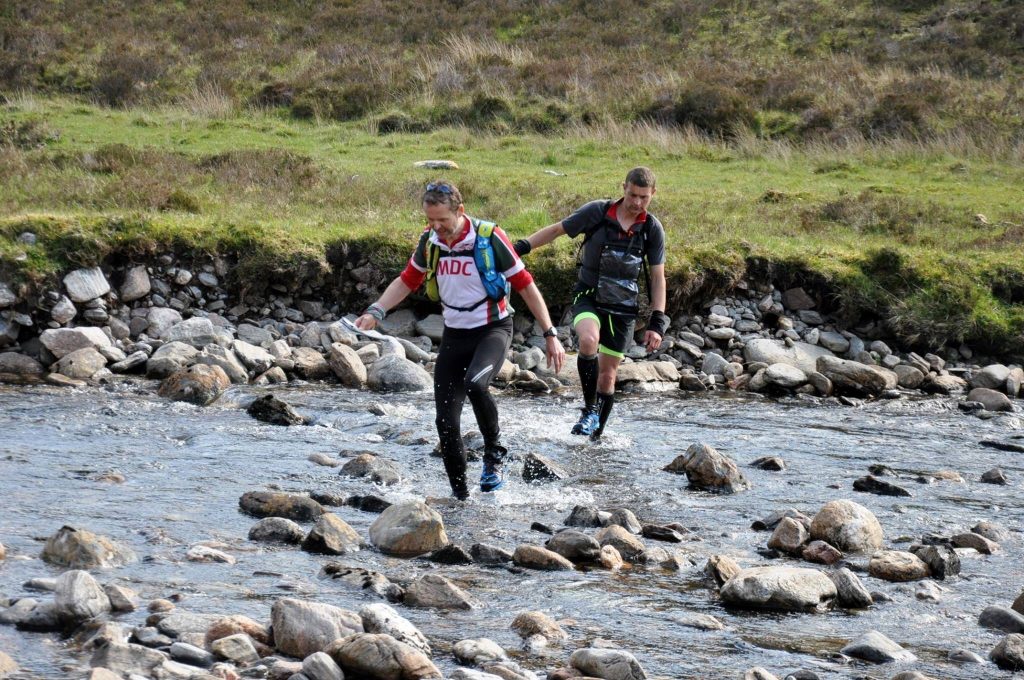 Day 7 took us from Inchnadamph to Kinlochbervie. 61km with 1600m ascent. It was to turn out to the best day of the journey from my perspective. I knew that if I got thought this day then the final day would be straightforward. Some of the best scenery of the week was had with interesting mountain passes and fantastic sea views and sea lochs. We also passed Britain's highest waterfall, Eas a Chuall Aluinn. At 200m tall it is three times higher than Niagara Falls. It is rarely visited as it is so far from the nearest road or loch head. The path finishes at the top and to see the whole drop requires descending a steep pathless slope and yomping across tussock and rock. After briefly posing for photos we pressed on and enjoyed some very remote terrain. I saw my first walkers of the week and made good time on rough terrain that was quite soft underfoot. This made the pain from my ankles more bearable and I was able to enjoy myself. A short section of forestry track reminded me they were still there and still hurting and I swallowed my first painkillers. We arrive in Kinlochbervie to a fine evening. The walk to the nearest store now seemed too far and I lay in my tent and recuperated a while. Food was plentiful and I looked forward to salted chips and a cup of hot soup on arrival in camp each evening. The catering and organisation was superb and can't be faulted. It was a major logistical nightmare for the support crew to pack the tents each morning and then transport and erect them before we arrived in the late afternoon. The support crew were very encouraging at each check point and made us feel good even if we didn't. The rules were enforced fairly for everyone's benefit. Cut offs were strictly applied for everyone's safety. Shane Ohly's organisational skills have to be admired. I have been to many events where rules were not enforced, kit-checks not made etc. Clearly safety and fairness were very much in Shane's mind and this showed in the careful planning and preparation. This made for long days for the support crew as they were up before us and often in bed after us (especially if slower competitors came in late).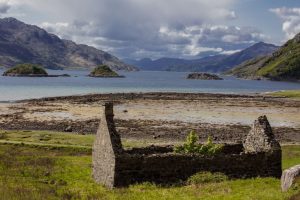 Day 8 saw the final day of the challenge with a short 26km romp to Cape Wrath past Sandwood Bay and through the military firing range. We were to be used as live target practice (just kidding!). I was grinning like an idiot most of the day. I felt good, the pain from my ankles was receding into the background as positive thoughts of finishing filled my mind. The fantastic scenery on this last day also helped take my mind off bodily woes as well. The first half was on road and trail and then we had to navigate in swirling mist to find the light house at the end of the earth. Cape Wrath is nearer the Arctic Circle than London and is very remote. Some found the navigation challenging in the mist but years of OMM practice served me well and I arrived without mishap. I had my compass out all the time and enjoyed finding my way from hill top to stream crossing and back to hill top.
However, the leading runners all got there before the support crew. Their arrival had been delayed because the ferry operator had (reputedly) failed to wake up that morning and had had to be roused from his bed. A drink in the café and a few photos were had before we got a minibus to take us on the military road to the ferry and the nearest village of Durness. There we were staying in a proper campsite and I had my first shower in 9 days. It felt like heaven. I stayed in there a long time!! The rest of the remaining contestants dribbled in throughout the day. 59 people finished competitively out of the 98 starters. I surprised myself by coming 19th , averaging just under 4 mph for the whole 241 miles. The winner, Marcus Scotney, from the Peak District, averaged just under 6mph.
All in all, it was a fantastic journey through some of the most beautiful and remote countryside the UK has to offer. Now that the pain is starting to subside I can honestly say that it was an amazing experience and well worth the entry fee. The organisation was superb, the camaraderie was brilliant and very supportive and the support crew were very helpful. Little touches like a Coca Cola at the end of a tough day needn't have been provided, ate into the organisers profits but made the whole experience that much better. Also, thanks to the crew who pasted notices inside the portaloos at the end of day 6 with such encouraging words as "keep on pushing".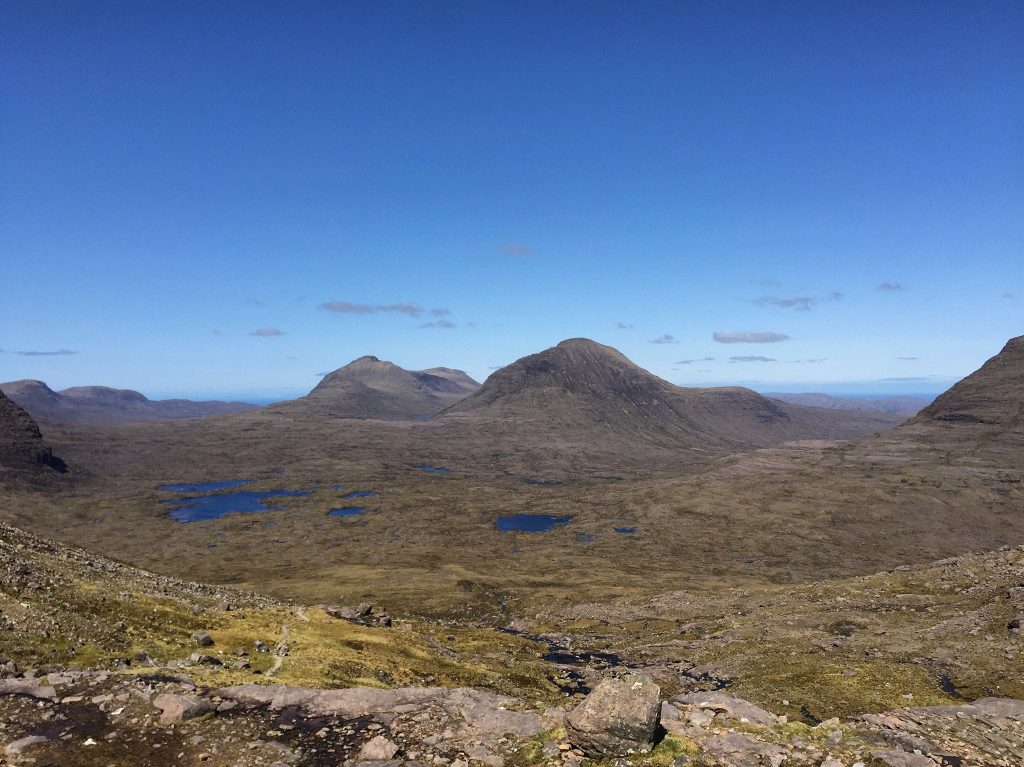 We finished the last night with a party in the local community hall in which the finishers medals were piped in like a haggis on Burns night. After a month's abstinence and after a couple of pints I was wasted!! We were bussed back to Fort William the following day and the journey ended for me in the same car park where it started. Did I enjoy it? Yes. Will I do it again? No. That's not because it wasn't a great experience, it was, but because I always think you should be looking for new challenges, finding new ways to push yourself. This is definitely one for your bucket list and should easily sell out next time it is run in 2018. I note next year's Dragon's Back has already sold out.
Alan Stone
Comments
comments