MDC News Outer Hebrides Edition
Old Greybeard's midsummer bit at the front
And so another edition of the bfp hits the streets. As you will see, for once the
magazine lives up to its name by being both bumper and, I hope you will agree, fun-
packed. We have results, feature articles and serious philosophy to delay you from
going out for a run on these fine summer evenings, for which we must thank our new
and dynamic Secretary, Ade (a different typeface for every occasion) Orringe and
Derek Thornley. Also, some chap called Greybeard takes you on a guided tour of the
Outer Hebrides in what was billed as 'one of the world's great adventure races. Ah,
but have they tried the Transfan?..
Finally, for those with keen eyesight we have the only full publication of the 1997-98
Winter Hill Series results, presented by the new Winter Series mascot, Walter
Winterleague (with thanks to John Battersby).
Oh, by the way, there's an intriguing invitation at the back for those of you who like
doing things that are slightly different.
There we are, an entire editorial and not a word of fell running politics. I knew I
could do it!
Old Greybeard
Cover photo: the standing stones at Callanish, Isle of Lewis. The midway checkpoint on Day 3 of the Western Isles Challenge.
Remaining Tuesday night runs
9 June: Fred's, Llanhennock
16 June: no run (Coity race on 17″)
23 June: Cwm Llwch + BBQ if fine
30 June: Beacon Batch race
7 July: Fan Fawr / Pontypool Park races
14 July: Llanthony Priory
21 July: Gwyn Arms, Swansea Valley
28 July: Llantrisant LC
4 Aug: Angel Inn, Pontneddfechan
11 Aug: Neuadd reservoirs
18 Aug: Risca LC
25 Aug: Maesteg LC
1 Sept: Blaenavon LC
8 Sept: Llangeinor Ams
15 Sept: Newbridge LC
22 Sept: Castle Inn, Pengenffordd
29 Sept: Pontypool LC
6 Oct: Fagin's, Taffs Well
13 Oct: Storey Arms in the dark
20 Oct: Merthyr Mawr Village Green
All runs start at 6.30 p.m. All standards catered for from walkers to the fast men
(and women). Turnouts of a dozen plus have not been unusual this year: see you
there!
Not the Transfan results
The weather improved steadily throughout the day to culminate in a beautifully sunny
Cwm Llwch for the post-event champagne reception (yes!) and barbecue. A dozen
brave souls set out from Llanddeusant for the 21 mile/8500 feet drag, and 4 hours 15
min. later Pete Maggs was the first man home (not the winner, as this was not a
race!). He receives the awesome and magnificent Transfan Trophy and the
responsibility of organising next year's event. Thanks to Fast Eddie for the 'entry
forms' (and best wishes for your move to Scotland), and to Kay, Jess, Jenny and the
others for the encouragement at the road crossings. No serious injuries, no-one got
lost- although Fred and Clive discovered some interesting new checkpoints- and
everyone finished in good style. Another fine day on the hills with MDC!
Secretarial Bits – Ade Orringe
At the club's AGM held on 5th April various new members were elected onto the
committee including myself as Secretary. To keep everyone informed what is going on
I shall try to remember to include brief details in the Newsletter. This will include stuff
from the AAW and our own committee's deliberations (not much to write about then!)
or in fact anything else I see that may be of interest.
AGM
I'll start by saving Old Greybeards digits and list the committee-
Chairperson – Fred Parry
Membership Secretary – John Sweeting
Coopted Members – Brian Martin, Ann Nixon, Robert Benjamin, Tom Gibbs,
Peter Maggs, Sue Ashton, Alice Bedwel.
Club Secretary – Oh, thats me!
Treasurer – Kay Lucas
It was generally thought that MDC benefitted from having an informal style but that the
club needed to be better organised to address the varied needs and interests of our
members. Several resolutions were decided:
Gwent Cross Country Leaque. MDC intends to seek registration into the league ready
Tor the next season and will look to members to support the club. I'm to look into this.
Club Kit Benji will stay as quartermaster, there is some kit left but new kit will be
ordered. We need to look the part and advertise our presence.
Re-formation of Welsh Hill-Runners Association. It was felt unsatisfactory that three
individuals represent our views on the Endurance Committee of the AAW. We need a
national body similar to the English FRA. I'm in the process of writing to interested clubs
to initiate a discussion meeting on the future of fell-running in Wales. To that end I am
also in consultation with the AAW, drafting a Constitution and Rules for Competition.
Events. Rod Jones and Benji expressed an interest in staging unusual events or
challenges and Mike Duxbury was keen for the club to enter relay events.
Race Safety. Ann Nixon offered to work with Sue Ashton on race safety proposals. It
was thought a race organiser would be too busy on the day to organise safety
procedures as well, so other measures were needed to be considered.
Training. I intend to start training from Pontypool Leisure Centre on Tues. and Thurs. at
7pm on a regular basis. This is unless a Tuesday summer club run is in the area.
Everyone is welcome due to start Tues. 5th May but check with me for the first few
weeks, especially if you are travelling (l'm still on shift work at the moment). l already do
long runs on Sundays when there is no racing, again phone for location
Phew! What a meeting. Still got more for you though, the next committee meeting is
after the Tuesday run on 26th May in the Red Lion, Llanbedr. All welcome.
Here's some recent stuff from AAW:
Inhaler Users. All athletes who use inhalers must register their use. If this applies to you
please ask me for a form-it mentions a Beta 2 agonist inhaler?
Registration. By January 98 there were 4150 athletes registered. Letters are being sent
to all clubs who have no athletes registered. They have until 31st March to respond
otherwise they risk being disaffiliated.
Salaried Staff. The following AAW staff are funded entirely by the Sports Council for
Wales- Director of Athletics and Director of Performance and Coaching. The following
staff are 50% funded by the Sports Council with 50% from the AAW National
Administrator and Admin Assistant.
British Athletics. David Moorcrofts roadshow on the new set-up to replace BAF is
coming to Wales on Sunday 31st May commencing at 5.00pm at Bridgend AC.
Newbridge Fields, Bridgend. If you want to go please let me know by 25th May as I have
to forward numbers.
Hope it's not been too much to read but I'm sure there's more to come!
Wild, Wet and Woolly: The Lowe Alpine Western Isles Challenge 1998
The Cast: Nick Dallimore, Welsh international canoeist and mountain bike champion
Meg Fraser, Scottish international orienteer.
Gareth Buffett, Hawaiian Ironman, Three Peaks Yacht Race, etc, etc.
Old Greybeard, maximum style marks for descending the Blorenge, 1996.
In Supporting Roles:
Mrs Greybeard, Welsh squash international and camper van rally driver.
Howard Buffett, Logistics expert, brother of Hawaiian Ironman above.
Various athletes, organisers, film crews, crofters and sheep.
Scene 1: The living room chez Greybeard, one evening in March. A pleasant scene as
glasses are raised to celebrate Mrs. G's selection to play squash for the Welsh Wrinkly
Women in the home internationals. The phone rings.
Phone: 'Hi, it's Gareth here. Will you be running the Llanbedr race on Saturday?
OGB (slightly wazzocked): Mmm, yes, good early season test. I'll be there.
Doc Buffet (for it is he): I've also got this little race you might be interested in that
involves canoeing, cycling and running the length of the Outer Hebrides. It sounds
like fun. Would you like to be part of the team?
OGB (still not quite up to speed): "Mmm, yes, as I say it's a good early season test.
Iil be there. Now what was the other question?
Phone: Brrrrrrrrrrr….
Scene 2: The Muddy Dap. That weekend. OGB is talking to a non-running friend.
Chum: You're obviously not doing the right training.
OGB: Oh, I think my usual mileage should be OK. Tuesday night runs and so on."
Chum: 'You misunderstand. You need to practice saying "No".
OGB: (slowly realising what he's let himself in for): °N..n.nn.y..yy.. YES!
Nnnn..NNN.. Y.. Y.. Yyesss! Nnnnyyes! NnnnyYESSS!! I can't manage it! I'l have
to run!
Scene 3: The new bridge to Skye, two months later. Midnight. Howard, driving the
camper van, decides to cheer up the toll-collecting lady who was obviously in for a
long and tedious night.
Howard: I hope you' ve got Sky TV in your office.
Toll Collector: 'Och no. You have to go across the bridge for that."
Hmmm..
Scene 4: The Hebrides ferry, somewhere off Skye. The next morning.
Voice over loudspeaker (in a happy Hebridean accent): "Guid morrrrning ladies and
gentlemen and welcome to our crossing to the Hebrides. The journey time will be
about two hours and the weather is fine… pause)..
..apart from the rain.
And that is how the Greybeards and the rest of the cast (known collectively as the
Wild Wet Woollybacks) came to be doing the Lowe Alpine Western Isles Challenge,
an impressive name for a very impressive race. The basic idea is a three day relay race
for teams of four plus a support team, from Barra, the southernmost of the inhabited
Western Isles, to the Butt of Lewis lighthouse on the northern tip of Lewis, via
various checkpoints located either on the tops of mountains, in impenetrable bogs or
at the end of improbably narrow single-track roads. How you get between the
checkpoints is up to each team (barring motor or animal power), and changeovers
between athletes are allowed anywhere as per Offa's Dyke Relay etc, subject to the
one basic rule that a total of at least 50 miles of northward distance must be achieved
on foot. This leads to great fun as cyclists hurtle past runners and people disappear in
various directions to their next changeover. Obviously the inter-island bits have to be
done by canoe. The total distance involved is over 200 miles: the organiser claims that
the route crosses some of the 'most demanding terrain in western Europe". Certainly
no-one accused him of hyperbole.
Those rules led to three very long days, starting at 7.00 or 7.30 a.m. or even earlier for
the canoeists and not finishing until about 8.00 p.m., after which the team had to be
fed, watered, transported to the start of the following day's course and bedded down
ready to start again. In between times, the logistics of how to relay four athletes, a
canoe, a mountain bike, two road bikes and two camper vans to the next changeover
or overnight camp, sometimes by ferry, had to be worked out by the support team,
who were also responsible for driving the vans, translating Gaelic road signs into the
English versions shown on our 20 year old road map and making vast quantities of
tea. There was very little time for shopping or sightseeing (not that there is much of
either to do on the islands)!
Day 1 started well for the Woollybacks, with Nick leading the canoe fleet into South
Uist from the start on Barra. The rest of us weren't aware of just how good he is and
he took us by surprise with the length of his lead. He went on to win every other canoe
leg and retained his canoeing prize that he had won in the 1996 race. Polish it before
you take it back next time!
The relay baton (a kilt pin on which a square of tweed was fastened at every
checkpoint) was passed to Gareth, who disappeared rapidly up the mist-enshrouded
first hill and the relay began. Good navigation and a quick change to Nick (on a bike
this time), followed by fast running by your scribe and Meg on the short machair
grass of the western side of South Uist retained our commanding position until the
start of the first mountain leg over Beinn Mhor and Hecla, both 2000 foot summits.
This is where we realised that the race would be decided on the mountain stages.
where any poor route choice or 'navigational uncertainty' (not that I got lost, of
course!) would result in losing lots of time to teams with classy fell runners. Visibility
was good over the summits, but I had a first taste of the underfoot terrain, which can
Only be described as appalling. Deep bogs interspersed with huge peat hags on the
lower slopes gave way to steep slopes (we re talking Fan Gihirych here) higher up,
with slabs of rock and piles of boulder scree, and forward progress was very slow.
There aren't many places in Britain where you can climb over 2000 feet straight off
the beach but this is one of them. Suffice it to say that it was a rather tired Greybeard
that handed over 10 miles and 3 hours (yes 3 hours!) later to a keen-looking Meg. who
bounded away on a tricky 6 mile navigation leg.
So the first day went on: we didn't get lost or miss any changeovers, those of us who
had never cycled competitively before didn't fall off and we reached the end of the
day to the news that the Royal Marines team had capsized on a canoe leg and had
been eliminated and that the Army had lost a Land Rover in a peat bog. Your country
is safe in their hands! Our only injury was a turned ankle by the Doc, but he declared
himself alive and we didn't require Nick's professional services (he's a pathologist)!
Day 2 started to the same pattern with a win for Nick. His closest rival in the canoeing
declared that 'he paddles so fast you could water-ski behind him!' Certainly the
competitive glint in his eye is the same as the one you might have seen if you've ever
asked Alwyn Nixon if he fancies going for a long run- not a pretty sight but it terrifies
the opposition!
More biking and running brought the team to the start of what at least for OGB was
the toughest stage of the lot- 15 miles and 3000 feet over Clisham, at 2700 feet the
highest point in the Western Isles, and various subsidiary summits. The cloud base
was at about 1000 feet, a westerly gale was blowing and it was snowing hard on the
summit, as you will see when the film is shown (sometime) on S4C. I was just below
the summit, picking my way through boulder scree when their cameraman, who was
mainly following another Welsh team (known to us as 'Wales B' as we beat them)
popped up from behind a boulder and tracked me to the top. At least it encouraged me
to jog the last 50 yards.
The last 10 miles of this leg were purgatorial: knee-deep bog, rivers to cross and a
midway checkpoint at which conditions were so bad that the marshalls had to radio
for confirmation that it was safe to continue. Unfortunately it was. On and on until I
eventually stumbled into the van. Immediately a radio reporter stuck a microphone
under my nose to ask me how I felt. Yn Gymraeg! At that stage I could hardly think in
any language let alone Welsh, but if any of you listened to Radio Cymru at the
appropriate time you may have heard some incoherent gurgling noises that was me
trying to explain the delights of fell running, in Welsh, through a hypoglycaemic haze.
As Meg said to Kay, "At least you don't have to worry about what he'll look like
when he's 65, you've just seen it!" Isn't it nice to know who your friends are?
To put this leg in perspective: my usual time for Llanbedr- Blaenavon (16 miles/3000
feet): about 2 hours 30. Time for Clisham (15 miles/3000 feet): 5 hours 46. 'Nuff said.
Day 3 dawned and OGB had to be almost winched out of his bunk after the horrors of
the previous day. Negotiations with the Doc resulted in him agreeing to run my first
one-hour mountain leg in exchange for his easy 5-mile road cycle and a large financial
inducement. No, I made that up. What a wonderful chap he is.
Again some really slick changeovers (i.e. the buses arrived at the same time as the
incoming athlete!) and rally driving by Howard and Kay, together with the now
expected canoe win for Nick, brought us to the last long mountain stage, 10 miles and
'only' 800 feet of climb across the centre of Lewis. This was down to me again, but
by threatening to hide Gareth's mobile wine cellar I managed to persuade Meg and
Him to meet me at the start and finish respectively of the leg so that my major effort
could be saved for the middle 5 miles. Good job too, as the bogs and 'wee lochans'
were the worst of the whole trip after the previous day's rain. The 800 feet of climb
felt more like 8000 with all the peat hags that had to be climbed. At least the sky was
clear: this would have been a nightmare in low cloud.
At last the north coast: a hurdling session by Meg through various crofters back
gardens brought us to the last changeover, from where Nick had the glory leg to the
lighthouse. Champagne was drunk and photographs were taken, and Nick disappeared
For an important bit of bird watching while the rest of us were glad just to stop and
rest.
At the post-race ceilidh (broken up by the police at 2 a.m. so it must have been
Successful) we established, amongst eightsome reeling and stripping of willows, that
we finished in 8h place out of 20 teams, and we think we were third veterans team.
Over half the teams failed to finish, so I think it was a good performance. Would I do
it again? Well, the team got on together really well and there were some memorable
moments, but I must do more training.
Now where was I? NNNNyyyyess! NNNNYYYesss! Oh, what the hell…
Old Greybeard
Meg Fraser races the setting sun at the end of Day 1 on North Uist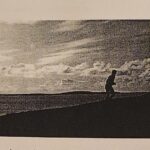 Long Mynd 15.2.98 – Ade Orringe
This ones long in name as well as being a bloody long time slogging round it. For a medium race
I reckon some long races would be faster. It was the first English Champ. counter so it was only
natural that MDC should be there! It was nice of the English to turn up in such large numbers to
lead us round and provide TV coverage of our efforts. Oh, and some gogs were there too.
My previous runs over this bit of the planet had been in driving hail or squelching through bog but
this weekend was perfect, clear skies and dry underfoot with dehydration being the main problem.
I thought I was going quite well at the start, up the first ascent, onto the open moorland but then
realisation dawned that I was in a huge snake being consumed by runner after runner as they
passed me by.
Legs running but not moving, lungs bursting but not breathing, the horizon getting no nearer, I'm
sure you recognise the symptoms. The only thing to do was to try to run as relaxed as I could and
just keep trotting along hoping that it would pass. Unfortunately I knew that from checkpoint 5
the going was worse with the last two hills being notorious for swopping the legs of a runner with
those of a rubber chicken. Nevertheless, as I got there, I caught Trefor Jones and Julian Bass who
encouraged me by running away as fast as they could up and over checkpoint 6. From 6 there is
a route choice, left up a knoll then a steep descent or down and round to the right before both
routes ascend to checkpoint 7. Julian went left while me and Trefor went right, I think the time
to 7 is the same but as the bulk of the runners go left you can get towed round by them so in future I would suggest that as the preferred route.
The route choice didn't make any difference really I still bonked over the last mile before finally
stumbling over the finish line. I looked at my watch for the first time – 7 minutes off my previous
PB! Blooming marvelous, could do it again (well maybe next year).
I bagged most of the MDC lot with provisional results but apologies to Eric Meredith (whose new
beard obviously sapped his strength according to Dick Finch who passed him halfway round) as
I missed him on the day.
Position as follows:-
| | | |
| --- | --- | --- |
| Senior Men | | |
| 1 | lan Holmes | 1.29:58 |
| 15 | James McQueen | 1.37:37 |
| 16 | Mark Palmer | 1.37:47 |
| 59 | Julian Bass | 1.49:14 |
| 69 | Trefor Jones | 1.50:45 |
| 116 | Mark Saunders | 2.00:58 |
| V50 Men | | |
| 1 | Kieren Karr | 1.49:37 |
| 13 | Brian Martin | 2.05:15 |
| 19 | Dick Finch | 2.12:56 |
| 22 | Eric Meredith | 2.16:19 |
| 41 | Graham Cheshire | 2.36:10 |
| Ladies | | |
| 1 | Carol Greenwood | 1.47:37 |
| 7 | Alice Bedwell | 2.09:46 |
| V40 Men | | |
| 1 | Dave Neill | 1.33:43 |
| 25 | Adrian Orringe | 1.51:46 |
| 56 | Alwyn Nixon | 2.08:27 |
| V60 Men | | |
| 1 | Peter Norman | 2.15:08 |
| 11 | John Battersby | 3.05:21 |
A total of 34 teams took part in the mens race with 5 runners to count. We came 17th with Julian, myself, Mark, Brian and Alwyn – Eryri were 27th.
Unfortunately we couldn't muster a ladies team of 3 runners. Not surprisingly we did manage a
male vets team coming 13th out of 25 teams courtesy of myself, Brian, Alwyn and Dick.
Yes it's a tough course and as you can see by the positions and times it attracted a quality field.
so well done everyone.
British Champs (part one) – Ade Orringe
The First event was held at Pendle on 4th April and was the short race of 4.5 miles about l400′
I was driving up with John Sweeting (recently out of hibernation for the past 2 years), Gary
Jones (I've done 1,000 bricks today) and 'he who mustn't be named but now runs for that north
club that mustn't be named.
As it was the same day as the Grand National I was persuaded to get up before dawn to
Avoid the traftic. No suprise when we qot to Pendle at 10.30 to find we had won the first car
to park at the venue race! As the race started at 2pm we had a little time to wander the city
centre and wait for the cafe to open. We even saw the mists clear to give a view of a big
lumpy bit that was to be our killing ground later that day.
Had a cup of tea and waited, and waited, and waited…….. then watched the ladies race for
the first mile before doing our bit. So here's the results
Ladies- 79 runners
Angela Mudge 35.17
Men- 44| runners
M. Whitfield 30.02
73 Gary Jones 34.10
Vets M40
M. Patterson 31.08
34 Ade Orringe 36.05
Yets M50
P. McWade 34.16
32 Brian Martin 42.47
48 John Sweeting 45.46
Vets M60
P. Norman 39.27
13 John Battersby 52.36
Others worthy of a mention are Mark Palmer who came 19th beating James McQueen who
was 31st. Best get our recruiting sergeant onto him! Oh, talking of recruiting sergeants, guess
who crocked his ankle on the top and came down with the mountain rescue?
Best wishes from all at MDC To Ken Haddow, who has broken Graham
Copp 'most distant member record by moving to Santiago in Chile! We'll
all be over next year To run The Aconcagua fell race, and Roy Ruddle
thinks that the Andes Traverse might be worth a try. 'It's only 2000
miles!'
British Champs (part two) – Ade Orringe
The first medium race of the league was held on 10th May at the
Buttermere Sailbeck Race. Cumbria (9.5 miles 4250). I went there for the
first time last year and had a great time so had already committed
myself to go this year and hopefully future years. It's recognised as
beins a hard' medium and only about 10 – 15 minutes slower than the
British Long at Culter Fell. Myself, Mark Palmer and Adrian Woods
traveled up the day before and after a bit of sight-seeing round Keswick
went onto Borrowdale Youth Hostel booked courtesy of Eryri who have
club membership with the YHA. Mark and Ade took the cross-country
route to the local drinking well whilst I climbed the wooden Hill.
In the morning we met up with the remainder of the MDC contingent;
John Battersby and Brian Martin had also travelled up a day or two
before the race, whilst John Sweeting travelled on the day bringing his
fan cub with him (his mum and dad). As usual John arrived just in
Time and was seen running towards registration as we gathered on the
Line.
A walk over Ard Craggs, down to the Riss Beck, horríble hands and
knees job over Causey Pike with a bit of climbing.. along and up over
Crag Hill), descending down to Whiteless Pike and down to Buttermere.
Easy really, honest ! Mark was surprised I walked up Ard Craggs let
alone Causey Pike (he ran the whole way. except for the rocky bit !!).
The weather was just about right and dry underfoot which resulted in
fast times, followed by pink bodies lying around like sausages on a
barbecue.
Men
S. Booth 1:24.05
Ladies
A. MuDse 1:39.16
Vets M40
D. Neil 1:28.46
Adrian Orringe 1:48.19
Vets M50
J. Patterson 1:38.51
Brian Martin 2:00.26

John Swcetins 2:23.24
Vets M60
R. Jaques 2:02.34
John Battersby 3:06.17
Mark Palmer romped home 20th in 1:33.31 once again beating James
McQueen who was 26th in 1:34.17. Adrian Woods was 75th in 1:43.47.
Home Countries International: Knockdhu – Adrian Orringe
Obviously I was delighted to be selected for the Welsh Vets Team along with
Gwynfor Owen, Don Williams and Jeff Rees (Neath). The men's team
Consisted of Emlyn Roberts, James McQueen, Jonathon Hooper and Andrew
Davies (apparently we couldn't muster a junior team). The ladies team
consisted of Ann Nixon, Victoria Musgrove and Helen Horler (Swansea), we
just managed to get a team together.
We left South Wales 3pm on Friday with Adrian Woods driving. I should have
known better, he's broken down more times than a chocolate welding
machine. True to form, 30 mins into the journey the exhaust fell off! 2 hours
later we were back on the road and after a brief stop in North Wales, we met
up with the mini-bus, over the watery bit, up the bumpy bit and arrived at
Larne 1pm – a 22 hour journey.
Now according to Gavin Bland, Knockdhu is a true fell race but it doesn't
compare with Cumbria or North Wales. It's basically two laps over the same
hill, still who am I to disagree with it being of a standard suitable for an
international fell race. The evening presentation was lively, good food and
black stuff though I must admit to avoiding the rush into Larnes glitzy nightlife
because by now myself and the other crinklies were well and truly knackered.
Except Jeff Rees who had been whisked away to Belfast airport to catch a
flight to London as he was doing the marathon the following day!
Men
Gavin Bland 35.52
Andrew Davies 36.38

Emlyn Roberts 38.01

James McQueen 38.06
20 Jonathon Hooper 39.55
Ladies
Tracey Brindley 43.34
3 Ann Nixon 44.59
9 Victoria Musgrove 48.59
12 Helen Horler 53.55
Vets
Dave Neill 36.45
Gwynfor Owen 40.29
9 Don Williams 41.56
11 Adrian Orringe 43.22
Jeff Rees 44.56
The Isle of Man were able to field teams as well as the Home Countries.
Wales came third in all categories. or those of you who are cost conscious,
the B & B and presentation evening were paid for by individuals, the AAW
paid for entries and travel costs as part of the £5,000 grant to Welsh
Fell-Running.
Gwent League- Adrian Orringe
At their last meeting the committee approved a recommendation to
Join the Gwent Cross Country League as a means of publicising our
club to a wider audience and to cater for our members. Before I
commit pen to application form and fork out £25 club subscription I
thought l'd canvas your views. Some have already said that they
don't see á need for cross country running or those that do compete
are already doing so for another club. Its worth reminding you that
If you are a member of another club, who compete in the league,
they would have first claim on you, as with changing any club you
would have to complete forms for submission to the AAW. For
example I am first claim on road and cross country for
Griffithstown Harriers who may object to my running for MDC in
these disciplines and ask for a ban for up to 9 months.
If you are interested in running in the league for MDC please let me
know. lts no use joining if no-one runs.
An Apology to the FRA- Adrian Orringe
Remember my article on AAW registration entitled "So what do you
think". Unfortunately one piece of information I had been given
was incorrect in respect of £3 of FRA subs going to English
international Teams. The secretary of the FRA has pointed this out
to me and I naturally apologise for misleading readers.
Club Constitution- Adrian (get off the computer) Orringe
Sorry about this but the old constitution has been lost in the
dimensions of time and space so I've drafted a new one out. For it
to be accepted you have to read it and let me know if you agree or
want any corrections/additions. Then it can be accepted at an
extraordinary meeting. The draft copy is on this publication
somewhere.
Now I've really Finished, till next time!!
I live not in myself, but I become
Portion of that around me; and to me
High mountains are a feeling, but the hum
Of human cities torture.
Byron, but quoted by Del, whose
opinions this article represents.
(Not bad poetry for a plumber!- OGB)
Not that i'm one to complain, but you think Pen Cerrig-calch was a hard day out, do you?
Pah! You only had to run it. Try running the course to mark it, worrying about the
weather for an hour then standing in the rain for ages trying to record results. Whilst
trying to work out who's in and who's still out, runners either belt past without shouting
their number or turn up in Range Rovers from all directions. (And all the time it's "what
time did I do, what position have you got me down for..). By the time I left the field,I
was sure that everyone had returned, but the nagging doubts remained for ages. After
all, I hadn't actually seen every runner come back with my own eyes; the cars remaining
could have belonged to people who had gone back up the hill without telling me, but they
could equally have belonged to people who had not returned. It wouldn't have looked
good in a coroners court.
I know that there are several areas for improvement. For example, I have credited some
people with doing the whole race even though they did some of it by car, and rain-sodden
paper is surely no way to try to record results. As I am sure you will read elsewhere, the
new MDC committee is taking a welcome initiative to put proper processes in place to
help manage such difficult and potentially dangerous situations in future; they have my
full support and I look forward to both being able and being assisted to do better next
time. All the same, I have already been thinking about better ways of organising races
and better ways of controlling difficult situations when they arise. I started by looking at
the FRA Rules for Competition, of which Rule 4 states "Official FRA fell races must be
organised to comply with the FRA Safety Requirements". It was looking at these
Requirements that got me started on thinking about the root causes of the problems that I
faced at PCC.
A good few years ago, I was sitting in The Muddy Dap listening to one of our more
successful and arrogant (and now long departed ) runners hold forth on the question of
courses for fell races. He was of the opinion (not unreasonably) that following a course
should not be a matter of chance. Where we disagreed was that he believed that it was
the responsibility of the organiser to ensure that anyone could follow the course in any
conditions and under any circumstances. I asked if that meant that he believed the Trans
Fan should be marked with 42 miles of Reebok tape, to which he replied to the effect
that, if that is what it takes then so be it. I may then have snorted some muffled derision
into my pint, as he added: "The difference between what you do and what I do, is that
you are a only fell runner, whereas I am a fell racer".
Now I am not having a dig at Ann, nor Eric, nor any other of my mates who got lost on
PCC, but that comment came back to me as I thought about why they got lost. L am
gradually forming the opinion that getting lost on short, well known courses (even in bad
weather) is a symptom of this "fell racing". Let me explain. When I first confided in an
eccentric Scottish lady of my acquaintance that I was finding road running boring, she
persuaded me to turn up at the Darren one Tuesday night to see what running could be
like. I struggled, but I loved what I had found. No-one talked about pace, split times and
all that Les Croup's stuff. The sport to which I had been introduced combined running
with wanting to be in the mountains. It was mountains first, running second. I didn't go to
the mountains to run, I ran to be on the mountains. There was no blue line down a road
to follow, no policemen stopping traffic at road crossings, no crowds of spectators telling
me that it's nearly over as I staggered down Cwm Llwch. Maybe in a group, but always
on my own, at one with the fells – hence the quote from Beppo at the top of this article.
Over the last few years, a lot of new, high quality, runners have come into the sport
(perhaps tempted by the possibility of a free holiday in the Indian Ocean) and they run
very fast. Despite the fact that there have been very good fell runners in the sport for a
long time, only about 27% of races in this years FRA calendar have records set before
Without a doubt, races are getting faster and faster. I believe that nowadays many
of those who run very fast are fell racing, not fell running, and that they therefore need
and expect someone else to take responsibility for their safety. People treat it as a road
race with mud and steep bits. Because races are getting faster, all runners are being
dragged along and forced to keep up, so even experienced fell runners concentrate on
the running and forget about navigation and safety. Unfortunately, when the mist comes
down and the clag sets in, the ability to run is secondary to the ability to navigate. I am not
an Orienteer and I don't mean navigate necessarily as in "map and compass, but rather
in concentrating on where you are, where you've been and where you're going. Perhaps
this change is why, as Pete Maggs put it, the last race I ran was so long ago it was in
black and white.
As a race organiser, I have to implement the FRA Safety Requirements. Most people will
point at Requirements 9, 10 and 13 which state that only in settled fine weather may I
waive some of the requirement for windproof full body cover, map, whistle and compass,
that in poor or unsettled weather, I should require an unspecified "more"; that this has to
be enforced by complete or random checks; that all runners must be checked around the
course, and that if a runner is overdue at a checkpoint, there must be a system in place
that allows me to know this immediately. Based on these requirements, there were some
comments on the day that I should have insisted on kit being carried. Maybe. But I don't
go to the shops in the pouring rain without a coat and then complain to my wife that I'm
wet and cold and that it's her fault for not insisting I wore a coat. I don't want to use six
miles of tape marking the course; I don't even want to tell competitors that a route is
compulsory. What I do want to do is implement Requirement 1, which states that "the
COMPETITOR (FRA capitals and underline) should take primary responsibility for his/her
own safety on the hills". I believe that competitors should be at liberty to determine what
is necessary for them, but that brings into play the Shavian philosophy: "Liberty means
responsibility. That is why most men dread it.
If The South Wales Winter League remains as it is, and if Pen Cerrig-calch is still wanted
as a league race, and if the MDC committee still want me to organise it (or another race),
then I will do so. But the approach to the rules is a dichotomy. Either runners take an
holistic approach to fell running and keep their heads up and pay attention, in which case
I can implement Requirement 1 and the best fell runner will win, or we go head-down-
arse-up and relinquish liberty and responsibility. In that case the race will be well
marked, it will have a compulsory route, you will wear numbers pinned to your vest and
you will carry map, whistle, compass and windproof whole body cover. You will be
checked around the course, and the fastest fell runner will win.
And if I seem uneasy taking the latter course, it's because it's good-bye fell running and
hello fell racing. I Just hope the fell running spirit will always prevail on those sacred
Summer Tuesday nights. That's what I joined MDC for.
Derek Thornley
Comments
comments