Skirrid fell race – 17th December 2016
Race Details
Distance : 3.6 miles / 5.8 km
Climb : 1476 ft / 450m (over two climbs)
General description : Something for everyone.  "Fast" sloped fields to and from the Skirrid that gave more than enough warm-up and but a long run into the finish.  The first climb from the fields to the top ridge was gradual and slightly slippy. This was immediately followed by a steep technical descent through the heather, straight into a boulder field then back up the the North face of the skirrid.  This was a definitely a hands and knees job.  At the top you could hardly lift your head above your knees to take in the view before you were sent straight back down.  There was some choice to which way you went down but this was overridden by the will to get down in one piece.  Then began the chase to the finish.
Hardest part : finding a seat in the pub
Runners: 147 (18 MDC)

Conditions
Weather : overcast
Temperature : +8°C
Wind : negligible SW probably
Visibility : Good
Underfoot : Getting a bit slippy
Results
Well done all!
Full results can an be found here
https://drive.google.com/file/d/0B4ire04vm1ckYzY2NmJQR0FUZ1U/view?usp=sharing
MDC Prizes:
1st F50 : Alice Bedwell
2nd M: Matt Stott
2nd M40 : Marcus Pinker
1st M70 : Rob West
2nd M70 : Les Pugh
First Men's team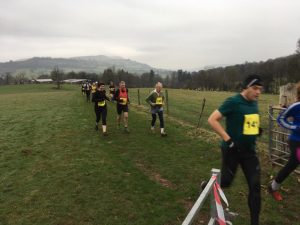 What's next?
7th January 2017 – Kymin fell race – last year's info here
21st January 2017 – Craig yr Allt (winter)
Comments
comments