MDC Women's Team at the British Fell Relays
Write up by Laura Clements
I've only done two training runs with MDC, but already I find myself sat in an old slate quarry on the outskirts of Llanberis in Snowdonia.  It is Saturday – the day before the British Fell Running Relays.  The wind is howling and the rain definitely has a wintry feel.  I cant see the tops of the mountains, which I know stretch into the thick grey clouds which are low enough today so that they brush along the top of the quarry embankment.  I want a hot coffee and a wood burning stove.  Instead I am surrounded by a group of remarkably hardy folk known as 'fell runners'.  That means they are all skipping around on ridiculously spindly legs, short shorts flapping in the wind, ready to run up the mountainside with disconcerting ease.  They are all here to recce the course for tomorrow.  You cant help but be infected by their enthusiasm so I dutifully changed into my Solomon Speedcross 3s and joined my fellow MDC teammates heading up the hillside.  Using a soggy A4 printed map, I familiarised myself with the course for Leg 1, which I will be running tomorrow as part of the Ladies MDC team.  The 2nd leg will be run by Nicky and Emma; the navigation leg will be run by Alice and Claire; and the final leg will be run by Megan. 
At this point I have to say a big thank you to everyone from MDC who made sure that I was comfortable with the course and pointed out things I should look out for.  Stood on the fells looking at the large expanse of mountain and sky above me, it was difficult not to feel overwhelmed by the landscape. Luckily fell runners have a healthy appetite for coffee, cake and chips.  So it didn't take long for us to gravitate our way back down into Llanberis where 'Petes Eats' delivered all three to everyone's satisfaction!  I also received my first crash course in the use of a compass courtesy of Alice.  Being one of the items of compulsory kit, I thought it was wise that I could at least identify which direction I was heading should the occasion arise. 
Sunday morning predictably dawns with more drizzly rain, low cloud, and driving rain. We make the short drive back to the quarry, which is full of clubs from all over the UK who have brought gazebos and tents to provide shelter from the elements.  There is even a large marquee acting as race HQ, which also houses the catering team who are providing hot meals for every runner after their run!!  I've never seen that before and am mildly impressed. 
I wander about feeling a little bit like a spare part- I am not sure on what I really need to be doing.  Martyn and Alice take great lengths to propel me in the right direction to the race briefing and kit check.  There is a brief moment of panic as I have to beg, borrow and steal the requisite kit items.  Due to the conditions, waterproof coat and trousers were compulsory.  Thank you John for coming to my rescue! I didn't have a proper backpack/bumbag which everyone seemed to be sporting, so I took the unorthodox approach of tying everything to myself and stuffing my gloves and hat into every available pocket space!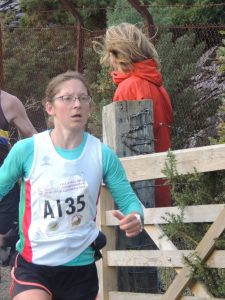 As we were all ushered to the start, I had to leave the safety of my fellow teammates.  I nervously assessed my fellow competitors.  They all looked fit; proper fit.  Not just athletic, but with bulging thigh muscles and not a scrap of body fat to mention.  I've heard it said that fell runners eat snails when they are still in their shells, and that they relieve their toileting needs in the woods using only hedgehogs to wipe!!  As I eyed them all up, I could well believe it!
Anyway, before I knew it, we were off and I found myself stuck in the back of the pack.  This wasn't really ideal as yesterday's recce had revealed a steep first section of narrow trails which was more akin to rock climbing in places, and with little opportunity for passing.  I know next to nothing about fell running technique or fell running etiquette, but I do know how to stick my elbows out and barge my way through to the front of a queue.  So that is what I did!
Once the trail opened up onto the mountain proper, we began to spread out nicely.  I knew it was a 4km ish climb to the summit, so I set myself up for a long hard slog for the next 30 minutes or so.  I put my head down, and focused on putting one foot in front of the other, trying to ignore the burning in my quads.  As a cyclist, I thought that I had strongish legs, but my gosh this was something else! 
As we all neared the summit, the visibility was pretty poor, and I could already see the leaders on the return section of the course.  I tried to steal a glance at these super-human runners, who looked impossibly fast and seemed to be floating over the terrain on their way back down.  I counted the women who went past, and worked out that I was sat in 5th position.  As I peered into the murky grey ahead, two black outlines appeared out of the mist, looking almost sinister with their hoods up.  But they marked the summit of the mountain – Hooray – and after scanning my 'dibber' at this checkpoint, I knew that I had a nice long section of downhill as I turned and headed back. 
It took a minute or two for my legs to adjust from ascending to descending.  They felt like jelly.  My quads felt destroyed, and now I was asking them to act as brakes as I tried to 'sprint' down the mountain over bogs and rocks and tussocks! I saw John Aggleton on his way up and appreciated his shouts of encouragement as I tried desperately not to land on my face. As I passed through the clouds, the landscape below me briefly opened up as the sun pierced through.  It was a fleeting glimpse of the valley, and from my vantage point way up high I could just about pick out the leading runners dotted along the trail ahead.  They really were flying. 
My descending technique is something to be desired and I slipped and stumbled for much of the way, occasionally struggling to remain upright as my legs buckled from under me.  I thought going down would be easier, but apparently this is not the case!  Then it got really really steep and I fell over and landed on my ass! It was so steep that I then proceeded to toboggan over the grass with alarming speed.  I passed three men picking their way down, as I hurtled towards the fence at the bottom bouncing around over the tussocks wondering how the hell I was going to come to a halt!
Back on my feet, I was now over 7km into the race with only 3km to go.  Fatigue was definitely creeping in and I was not looking forward to the next bit of ascent that would take me back to the top of the first section before descending into the quarry for the changeover.  It hadn't felt particularly steep yesterday during my recce, but now it felt like climbing Snowdon itself!  The rough track skirted a boundary wall, and snaked ahead rising all the way to a point on the horizon.  It was another case of head down and grinding out each step! Not for the first time I found myself questioning my idea of 'fun' and why I insist on entering these events week after week!! But finally, after much huffing and puffing, I reached the top and it really was all down hill from here.  Some of the more hardy supporters had ventured to this point and it was lovely to hear them egging me on for the final bit.  I could now see the little cluster of tents in the quarry.  It seemed like at least a day since I had set out from there rather than the 60 minutes that it had actually been!!
It was with a sense of relief that my feet found the concrete road once more and I gave one last push through the cluster of supporters and to the changeover pen.  Nicky and Emma were already there, bouncing on their toes and shouting at me to run faster.  Finally, I reached them and tagged their hands and before I had registered what had happened, they were gone!  I looked around.  I was done.  I was ushered through the finish, handed some water and I found myself in the race HQ marquee.  It was beautifully warm in here now I was out of the wind, and there was a comforting aroma of hot food!  And I could smell coffee!!  Oh my God, I wanted a coffee!  But not before I went back to the MDC tent, which had magically sprung up whilst I had been out on the course, to get the latest updates.
I watched John come in to the changeover for the Vets team, and was informed that the Men's team were flying around and were sat in the top-20 somewhere….  Now that I had stopped, the wind was really very cold indeed so I set about putting on every item of clothing that I had bought, as well as commandeering extra items from other MDC members! All that remained now was to settle down on one of the many plastic chairs with a bit fat wedge (or two) of cake which was carelessly left in the tent porch!!  It turns out Gill had been baking, and I reckon that was the nicest fruit cake I have ever eaten!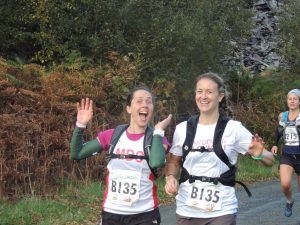 Over the next 3 or 4 hours runners from teams from all over the country came in through the changeover pen and set their next runners off up the mountain.  Nicky and Emma returned, spattered with mud but still with smiles on their faces, and Alice and Claire set off, compass in hand and ready to navigate their way to the required checkpoints.  I did not envy their task ahead; Leg 1 had definitely been the easy one!  Our final leg was one of the quickest of the day, and once again, I was reminded of the calibre of the athletes here as Megan practically skipped up the slates as she headed out for Leg 4. It was a real privilege to be part of MDC who accepted me into their fold with welcoming support and encouragement throughout the weekend.  There is something remarkable about running in the wild and rugged terrain, and a real sense of shared experience among all of us. 
Once everyone had finished and notes had been compared on the various routes, and crossings, and scratches and bruises, we made our way back to the car park and the long journey home.  MDC had had some excellent results, but perhaps more importantly for me was that fact that I had spent the weekend with people who I hope I can now call my friends!  I have definitely caught the bug, and will be pulling on my trail shoes again this winter!!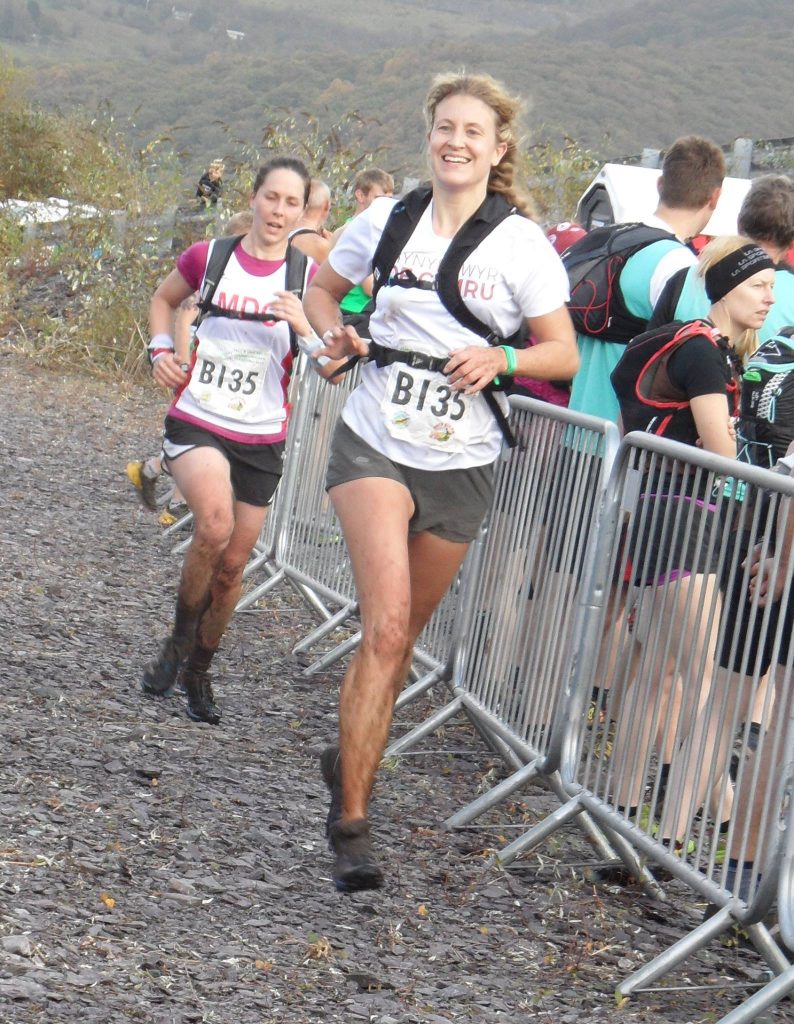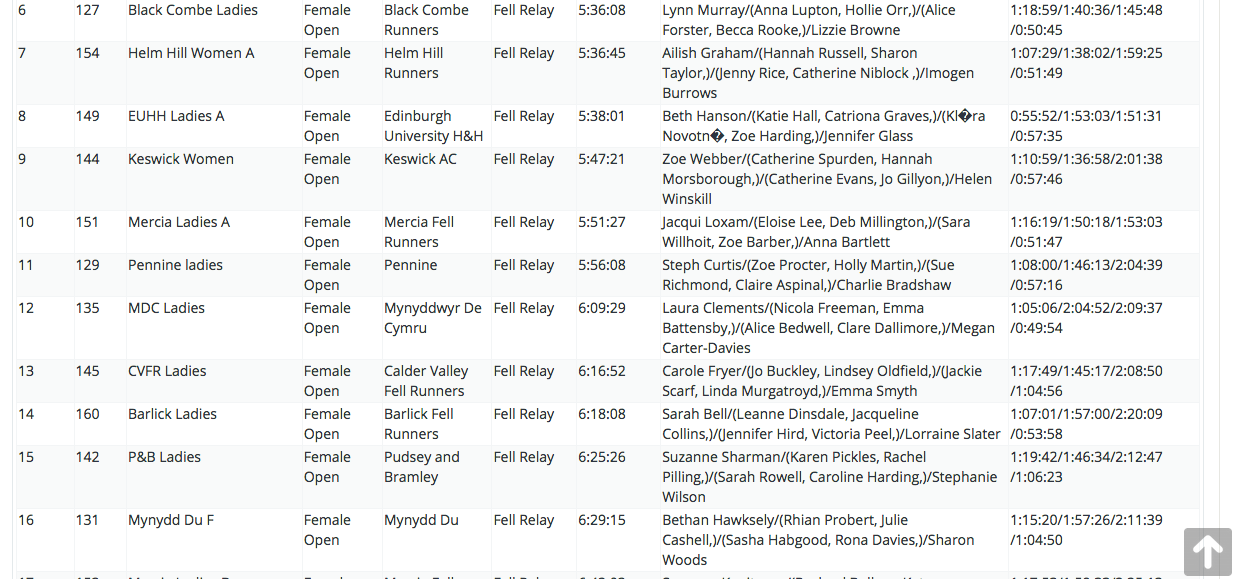 Save
Save
Comments
comments