Ultra Trail Unseen Koh Chang – Jungle Tripping
by Martyn Driscoll
I used to play rugby for The Southerners when I lived in Bangkok back in 2006/07 and a few of the lads were going to be going back for the annual Bangkok 10s rugby tournament, now in its 12th year, but which had only just started when we all lived there so it was high time we got a reunion sorted. I then turned my attention to checking out if any races were taking places for came across the Unseen Ultra Train Koh Chang which ticked all sorts of boxes as they have multiple distances (13km, 35km, 70km, 100km), it was the weekend before the tournament and according to their website the longer distances would qualify towards 4 UTMB points! BOOM!
A few months prior and I'd noticed that the 70km was not listed on UTMB, the race organisers insisted it would qualify and ITRA told me that it was down to administration requirement but should all be ok. This turned out to be true however the 70km would only be worth 3 points and I required 4, I could do the 100km which is worth 5 points but I'm not that stupid :p
Information on the route was hard to come by. This would be the third time the race took place and the directions would be different to previous years. Looking at 2016 results I could see that he 66km race winner took over 14 hours, this is a long time and I was not sure as to the reason why. I would however find out the hard way
No gpx file was distributed or available (the initial route was uploaded to ITRA 1 week before the race started) and the Facebook posts written in Thai were slightly cryptic when using google translate.
It looked as though there would be approximately 15km of tarmac which I was dreading and the rest would be trails.
I knew there race would be starting for us around midnight which was a relief as I left the uk in snow and warm temperatures of 2-8 degrees to arrive in Bangkok minimum 23 degrees. In order to get some advice on dealing with the temperature and what to expect I sought out some tips from MDCs very own Harry Jones who has been living out there for around 2 years and is making a great name for himself in the running scene as both a competition and a coach. I made a video as I know he laps up everything on social media
Here's his reply
Too tired on Thursday to recce some of the route as I was still suffering from jet lag, no sooner had I arrived on the island I was crashed out asleep until late in the night.
I woke up around 7am early on friday, the morning of the race, so went to check out the start of the 100km (begins at 8am) and take a look at some of the route. After bopping about on by hired motorbike for a bit I got off and took a walk deciding to take a look at the top of the highest peak of the race (and the island highest point) of 720m. However I started too far away, took way too long to get around and then couldn't find my motorbike so instead of an 8km hike I did 13km. Idiot. Still for some good pics and I decided to stick with the comfy brand new cotton socks I was wearing for the race as the ground was so hard.
By this time it was 12:30 and registration was open so I collected by bib number and was told to return at 4pm for the race briefing. Went back to my hotel (45 minutes each way) and returned at 4pm, but the race brief was changed to start 5pm, i didn't hang around this time as I really wanted to get some rest and figured if it was really important they would post it on their facebook page and I could come back later to find out the highlights. Turns out the main things that changed was the start time brought forward to 11pm (this was sent in an email) but also the highest peak on the island is being skipped out and the distance increased instead! My recce today would have been pointless if it wasn't for taking some awesome photos!
The trail is not as you would expect, there are trees of all descriptions/sizes/length/condition in the way and when there aren't any there are small strong vines imposing like trip wires. It was very hard going! There must have easily been over 400 trees to get over and it was such a relief to get on the tarmac!
The route although well marked with tape could have been better signposted and potential wrong tracks made obvious they are the wrong direction. After a speedy start to get ahead of the pack I found myself in front with two Canadians who lived in the North of Thailand and were running strong. They pushed on ahead of me and I was shortly overtaken by a guy from Denmark (Anders Kiel) who I would later run a lot with. I went from 4 place to 8th over the course of 2 checkpoints as 4 people had either gone the wrong way and already looped back through. At the time I thought they had cheated and was vexed for 3-4 hours and didn't say very much when I caught up with each one in turn, but having calmed down and looked back I can see how it was easily done by mistake.
One of reasons I could not keep up is that the brightness of my headtorch kept fading. I have never really used it for more than 1.5 hours and it was proving almost useless once the batteries were used a bit. I had thought of this and brought extra spares, but I had to get through 7 hours until sunrise. I had to stop 4 times to change a battery, I only changed one at a time faster than a formula one team because it was dark. In the jungle. Alone. Very, Very Dark!
I didn't see many creepy crawlies but heard plenty of things moving around in the undergrowth, a whole variety of sizes were out there. I do recall seeing one spider running between two fallen trees, he stopped scared still and so did I before just getting on my way before he had the chance to think about pouncing on me. As the sun rose to my relief I did get chased by some soi dogs for a few hundred metres and I recall chasing some chickens which decided to run some of the route in front of me. The sun was not scorching straight away but you could slowly feel its intensity as the hours progressed and I was glad I was not out and exposed in the rays like the other distance competitors.
For some parts of the race I ran with Anders Kiel. He had done the CCC in 2016 and we are about the same age too. He was in Thailand backpacking with his family and was just squeezing in this race as something to do 🙂
Quite early on he got some cramps in his legs which he later said stayed with him all the way through and around 15km he has a spurt of speed and went running off into the darkness and it wasn't until around 50km that I would catch up with him again on a long stretch of tarmac. I told him about the runners who we had overtaken and we worked out we were both in 3rd/4th place again and provided we both finished in either place would ensure we each got one of the awesome elephant trophies (I should point out here that Chang is the Thai word for Elephant). I ran with him for a while but was feeling strong now that I could see where I was going so pushed on ahead. Coming towards the final 8km through more of the wretched jungle trail, I suddenly heard him catch up with me so I had to get a move on, I had left him for dust on the road but here he was, that will teach me to be complacent taking in the views and taking some pictures!

By the time I was at Checkpoint 5 I was pouring the drinking water over my head, downing a couple of glasses and speedily refilling my water bottles in order to keep going and not stop. I wanted to get on with it to avoid being exposed in the sun as much as possible.
Unfortunately for me there was still some distance and elevation to go and it was through more of the tree trails! Argh! By this point I had had enough and wanted it to be over, but before I knew it I was out onto a main road, turning a corner for the final stretch, pouring any water I had left over onto my head and crossing the finish line. Then collapsing. Then being asked to stand back up for a picture.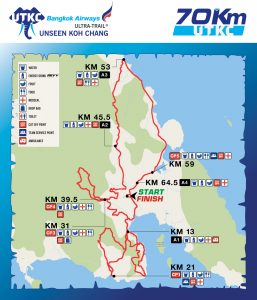 Post race and I found that I had 8 blisters, three of which were under my toe nails. This was caused from wearing new cotton socks which do not let moisture wick out apparently. Also the steep descents where I had to constantly stop and was unable to free fall down contributed to the friction.
Although the temperature and humidity of starting the race at 11pm meant it was comfortable, but it still meant I would sweat like crazy. I was soaking wet from 4km onwards and recall feeling drips which were falling off my head onto my legs when ascending some points. I had with me salt tablets and was drinking electrolytes with every drink 4 days prior. I wouldnt like to guess how many litres I chugged back and only stopped to pee a little it 3 times.
By the time I had finished the temperature was 44 degrees in the sun and to top it all off I had to return at 6pm for the presentations!
Time now for some luxury recuperation and to get on the lash for next weekends rugby tournament.
Recommendations and Tips for things I didn't expect
Salt tablets – Harry recommended Salt Stick Easy Chews. Its 2 every 30 minutes, they taste decent enough. Its hard to know if they worked or not of course as I have no comparison, but i'm still here.
Gels are warmer and easier to consume than in the UK where they are probably colder from being outside. This was a good thing.
I didnt bother with a hat or sunglasses due to the start time, but if I was to be running more in the day i would need these I think!
Don't wear new cotton socks, stick to your plan.
Check you have a head torch that will go the duration.
Potentially calf guards would have been good because of thorny spikes, but i toughed it out
Buff under head torch strap was a good move and in the day i used it to clean myself up and wipe my forehead
I have never run with a vest and hydration pack before, preferring to run in tech tshirts.  My Hydration pack was a bit loose as I am used to wearing it with a jacket, but the weight felt really light and I wasn't sore when I took it off at the end as I didn't have all the extra mandatory gear that has to be carried in europe. I did experience it rubbing around my neck area and ended up using some blister plasters on my chest so I wouldn't be aggravated by it.
You should expect changes, problems and general lack of information from the organisers, they will get better I am sure, but on the day its you who has to be responsible for getting through it and there is little point getting worked up about any changes that may occur.
You will drink so much water, really, loads. At the aid stations and checkpoints the volunteers unfortunately did take a while to help, looking back I should have simply picked up one of the cooled down 2 litre bottles and kept going with it, refilling my smaller bottles along the way as I would drink all of this or pour it over my head anyway. Some checkpoints had big bins of drinking water and having already opened my lids I dunked them in to fill them up, if I had left it to the volunteers each time they were using a jug and it took that little bit longer.
This is a 'next level' type of race, it is not a straight forward trail at all so be aware!
Ultra Trail Unseen Koh Chang 70km, February 17th 2017
3rd Overall, 2nd M30-39, 10:32:51.

Comments
comments