MDC Mixed team at the British Fell Relays
A Grand Day out!
 write up by Chris Farr
I must admit to being pretty reluctant when being asked by the great and the good of MDC to join the mixed team for the 2017 British Fell Relays in Llanberis. But there is a MTBO on in the Forest of Dean..I want to go orienteering…and..it's such a long way – I cried…! However, Martyn's powers of persuasion half convinced me and when Richard said that he was also orienteering at Danby Lodge on the Saturday and could drive us both up the deal was sealed!
Anyway, was I glad I agreed – what a fantastic day!!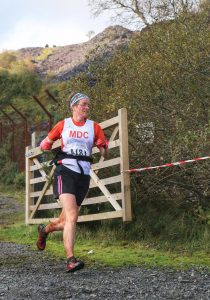 The mixed team was made up of:
Leg 1 – Chris Farr
Leg 2 – Ollie Lamford and Rosemary Moorhouse-Gann
Leg 3 – Martyn Driscoll and Richard Cronin
Leg 4 – Karen Elvers
Leg 1 got off to an interesting start, as we were herded from the start pen back down the road we came up earlier from the car park. The lungs were burning as we shot back up this road and it was  relief to get onto the steeper terrain of the slate quarries. Leg 1 was basically an uphill slog but I felt pretty good overtaking a few on the approach to the summit of Moel Eilio. Things got a bit tricky for me then, as descending is not my strong point and this section was full of bogs and hidden slippery rocks. As we neared checkpoint 2 things got even steeper and we were reduced to sliding down on our bottoms (obviously the best bit of the run!). We all slowed down a bit when we spied  a injured runner being attended to at the side of the route, but not to be put off for long, a sprint was required as we turned left along a flattish track and then up to checkpoint 3. It was then a simple matter of avoiding catastrophe on the slippery slate on the way down to the finish where I saved a little bit of energy to avoid embarrassing myself in from of my teammates!! I'd put us into 149th place, which for me, wasn't bad. More importantly, my job was over and I could get on with the next task of drinking copious amounts of tea and cheering on the rest of our merry band.  Also delighting in the hilarious range of facial expressions that runners wore on their sprint into the finish, including our very own Andy Stott who really did a corker of a face and set a number of us more susceptible members into a painful fit of laughter.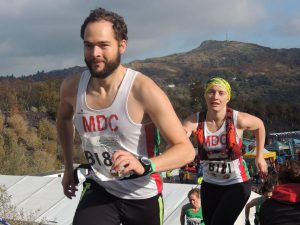 It was then over to Ollie and Rosemary, who did an excellent job on the longest leg of the day finishing in 140th place with a time of 2.04.26.
The navigation leg was a toughie and marred by controversy.  Martyn set off like a mountain goat up the slate ramp with Richard scurrying in his wake. But this speed paid off with the pair coming in just over 2 hours later in a commendable 75th place, taking us up the overall rankings.   As part of an honest team, they of course stuck to the rules on use of crossing points, meaning a slog up Moel Eilio was required.
Karen finished off the day with an excellent run to leave us in a superb 6th place in the mixed team competition.
A great performance by all – da iawn pawb!
Mind you after all that – it really was a hell of a long way to North Wales (and we were forced to eat a Burger King on the way home!!). But if you can cope with a slightly mediocre, but very enthusiastic and determined fell runner on your team, do ask me again (but only if it's less than a 400 miles around trip!)
Save
Save
Save
Save
Save
Comments
comments